10 Reasons not to miss Glee 2021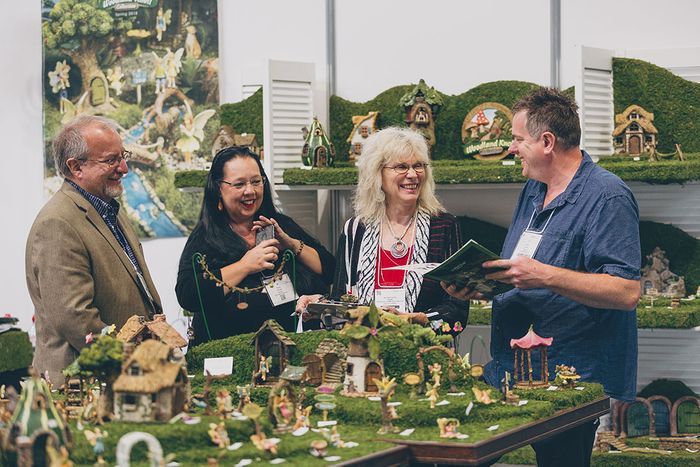 Glee 2021 is just around the corner (14th – 16th September, NEC Birmingham). With eight thriving product sectors and thousands of new products set to launch at the exhibition, it comes as no surprise that retailers from across the garden retail, DIY, builders' merchant, home and gift, high street and pet sectors – including B&Q. Blue Diamond, National Trust, Bents Garden & Home, British Garden Centres, Costco, Flowerland, Robert Dyas, Dobbies, Centre Parcs, Crocus, John Lewis, YTC Ltd – are registering for the show in their droves. For those yet to secure their free ticket for the event, here are 10 reasons why Glee should be firmly in your diary next month!
1.Exhibitions are back – Glee 2021 represents the first in-person garden retail event to take place anywhere in Europe within the last 18 months! With the absence of exhibitions felt so significantly, Glee 2021 is here to fill the void. Get up close and personal with new products, place orders for the coming season and meet with suppliers both new and existing.
2. 300 brands and counting – This year Glee will welcome over 300 brands to the exhibition roster, together covering eight core product sectors – Garden Care, Landscaping & Garden Decoration, Outdoor Entertaining, Plants, Home, Gift & Clothing, PAW (Pet & Animal Wellbeing), Retail Services & Experiences, and Food & Catering. With so many brands under one roof, retailers can expect to see the biggest profile of new products and innovation as thousands of new products are earmarked to exclusively launch ahead of the 2022 season at this year's Glee event.
3. Welcome to 100+ debut brands – Newness at Glee doesn't just take the shape of product, however. Look out for over 100 brands never before seen at the show. Covering everything from pots to growing media, pet care accessories to footwear, these new brands can offer your business the chance to diversify and build customer loyalty in the year ahead.
4. The return of big brands – Glee 2021 will also be welcoming back several brands that have not exhibited for a number of years. These brands, including Norfolk Leisure, Regatta & Craghoppers, Landmann, Apollo Gardening, Kettle Interiors and Azpects are back at Glee with an exciting story to tell and are ready to build new relationships with retailers.
5. Network, network, network – Zoom, Teams and Skype may have stepped up to the plate when it was needed most, but after 18 months of only seeing each other on the screen, we can perhaps all agree there is no real substitute for face-to-face. At Glee this year there will be plenty of opportunity to network like you've never networked before, so why not bring your whole buying team with you to cover more ground and make sure you don't miss out on finding your dream supply partner!
6. Get connected – Let the Glee Connect app help guide you to new products. Designed to provide an unrivalled matchmaking solution to help suppliers and retailers get the most out of their time at the show, Glee Connect, is a pocket-sized interactive guide to the show. Built using intelligent AI- functionality, visiting retailers using Glee Connect will be able to better measure – and even increase – their 'Return on Time' spent at the show, through personalised exhibitor recommendations, and an easy-to-use meeting scheduling function.
7. Education & celebration – As always, Glee will offer visitors a free, three-day seminar programme organised in conjunction with the HTA (Horticultural Trades Association), providing an enriched programme of expert business and garden retail advice to help grow your business through challenging trading conditions. This content will be derived from extensive industry research and is set to tackle key talking points, struggles and successes. In addition, the Glee New Product Awards and Buyers Power List will celebrate the best our industry has to offer.
8. Get ahead of the curve – With over 300 brands, thousands of new product launches, an unrivalled seminar programme, and leading trade association support, Glee is the place to come to see exactly what trends are shaping consumer demand. A day spent at Glee will provide detailed insight into the trends, colours and issues that are shaping garden retail and what will keep the tills ringing the year ahead.
9. Access trade association support – As the central networking hub for the garden retail industry, Glee will once again play host to vital trade associations including GIMA, HTA, Gardenex, GCA, PetQuip and Pet Industry Federation, all of which will all be welcoming existing and potential new members for the duration of the show, offering invaluable advice and expertise to those who need it.
10. Be safe and secure – Glee's return is only possible due to the incredible work that goes on behind the scenes to ensure that the show remains safe, secure and compliant with government Covid guidelines. From showing proof of Covid-19 status to increased cleaning regimes, wider 3m aisles, access to hand sanitiser and being a mask-friendly event, attendees can rest assured that the organisers have gone above and beyond to minimise the risk of transmission. Further details regarding Glee's Safe & Secure measures can be found here.
see
With thousands of fantastic products on offer, Glee will be taking place from 14 to 16 September 2021 at NEC Birmingham, which is the destination for garden industry inspiration. Compare the latest products on the market and discover the key trends and find out how you can merchandise products within your own retail space.