Opening the breakthrough of industry with new development ways
More than 350 brands, 19,002 visitors (plus 7% vs. 2020:17,776), and sports enthusiasts attended ISPO Shanghai 2021 at Shanghai New International Expo Center from July 2 to 4, 2021. As a high-profile sports industry event, the trade show featured a series of forums, trend-setting activities, innovative products, and expert talks related to Outdoor, Camping lifestyle, Sports fashion, Running, Health & Fitness, Water sports, Manufacturing & Suppliers, Textile & Technology. Growth for four consecutive years.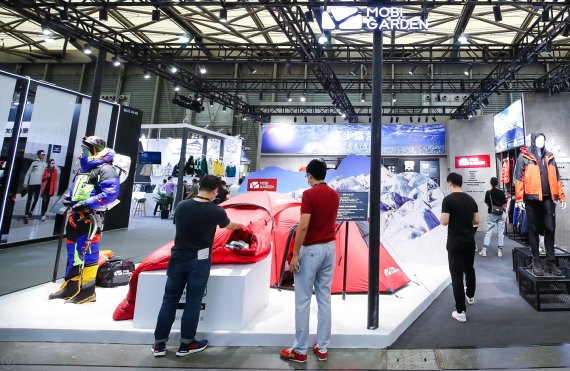 Mr. Klaus Dittrich, Chairman & CEO of Messe München GmbH, said: "If ISPO Shanghai last year was a boost for the industry, then this year it is a vaccine against the epidemic, and we can see a new surge of visitors and heated discussion. They fully demonstrated the industry's steady recovery and the vitality of emerging potential."
Upgraded partnership with Tmall upgraded into ISPO Choice
As upgrading cooperation between ISPO and Tmall Sports Outdoors, the ISPO Choice presented 50 selected finalists from 48 brands. They are representative of the current trend in the sports industry and provide useful information for the consumers.
In this regard, Ms. Candace Hua, Chief Financial Officer of Messe Muenchen Shanghai Co., Ltd. said: "Based on ISPO's professionalism and Tmall's influence, ISPO Choice will present high-quality; influential sports products and concepts to sports enthusiasts around the world." Meanwhile, M. Sheng Ying, Head of Tmall Sports Outdoor also said: "This time, the two parties collaborated starting from the TMALL × ISPO Choice selection scheme, aiming at establishing a commodity evaluation system with a multi-dimensional perspective including quality, trends, consumer reputation, etc., to bring about more high-quality, professional, and innovative sports outdoor equipment from all over the world to the consumers so that they could find their favorite goods more easily. At the same time, this would also create more dimensions of the sports goods segments and provide new opportunities to more brands who are innovative businesses."
The explosive development of KOL economy
KOLs (Key Opinion Leader) and KOCs (Key Opinion Consumer) are indispensable in today's marketing operations. Following the first try in 2020, ISPO Shanghai 2021 has seen explosive growth in the terms of KOL and KOC participation. More than 300 KOLs and KOCs are found active in the halls, bringing exposure to 9.9 million fans.
What is more important is the market influence and purchasing power represented by these people. Different from the usual "see what's going on", the KOLs and KOCs present this year have more clear targets. Senior Action sports and Outdoor sports KOL Zhang Jing said: "Actually, I considered myself an old friend of ISPO. But it feels a bit different to be a visitor and to be invited as a KOL. What surprised me the most this year was the change in the camping area. In the past, I might have focused on action sports. ISPO brings an inspiration that slow life can also be interesting.."
New trends and multi-category landscape in shape
The much-applauded "China Campground Development Summit" jointly created by ISPO and Xband Cultural Tourism Group, together with a camping life exhibition area that's ten times bigger than the previous year, has confirmed the explosive growth of the Chinese camping market. The "camping lifestyle" area included camping clothing in addition to basic camping equipment, as well as other aesthetic elements including home furnishings and retro trends. In the evening, the ISPO Sunset Boulevard Party gathered many fashionistas and sports enthusiasts, offering a more personal experience of the "camping style".
In the running and health & fitness section, in addition to the new products, the off-site test area and the running activity "Ride the tide and wind" jointly organized with Intersport also attracted many runners. We care about sports, but more about the people. ISPO not only offers sports experiences but is also concerns about the rehabilitation of athletes. A special treatment area was designed to provide professional solutions the sports enthusiasts. The "Plogging Running" introduced the "sustainable" sports concept to the sports community.
The return of the rock-climbing area and the water testing area has greatly improved the participation of sports enthusiasts. The "rock climbing zeal" triggered by its entry into the Olympics was found at ISPO Shanghai. Practitioners and enthusiasts gathered on the "wall" to test new products and exchange ideas. China's first indoor paddling race and the youth kayak ball competition staged in the 300-square-meter pool-"ISPO Water Fan" reflected how inclusive and interesting water sports is, and offered new ideas to other related industries.
Interpret industry forecast, trends and changes
The industry is undergoing rapid changes and upgrades. "Stay in the forefront and seize the opportunities" is a common goal. ISPO Shanghai, as a business exchange platform that has been deeply involved in the industry for many years, offered a macro analysis of the industry development and targeted discussion on hot issues through more than 80 exchange and forum activities covering retail, innovation, R&D, rehabilitation, camping, and other fields. The activities helped industry practitioners pinpoint their advantages and disadvantages while understanding the industry trend.
In addition to conceptual discussions, ISPO Award and ISPO Textrends once again showcased award-winning products that represent forward-looking technologies, fashionable and high-performance new products, and their market potential.
The next ISPO Shanghai will open at the Shanghai New International Expo Center in July 2022, while ISPO Beijing 2021 will be held at the National Convention Center (Beijing) on December 28-30, 2021.