SCOOP: NEW SHOPS OPENING DURING THE PANDEMIC
Karen Radley, founder of Scoop meets Amanda Mitchell, from Biscuit in Edinburgh and newly opened Biscuit in Glasgow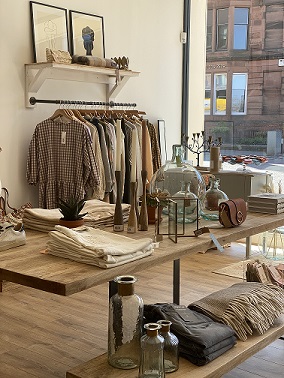 When and why did you open your Edinburgh store?
Retail is in my blood. My great great grandfather founded Bentalls and since I was a little girl all I ever wanted to do was to own my own shops. After my fashion degree I was fortunate to meet and work under Jennifer Loss who, as I joined, had just taken on space in Harvey Nichols for her concession. I was dropped in the deep end, running and buying for the concession – where I was taught to literally sink or swim. I joined Bentalls a few years later and went on to be their womenswear buyer during the 90's, and was instrumental in the changing face of their fashion offer.
I first opened Biscuit in Edinburgh in 2015. After winning a Drapers Award a year later and after the shops enormous success, I opened my second in Bruntsfield, another area of Edinburgh. I moved my office from my living room to these bigger premises and started to concentrate on growing the bricks and mortar alongside turning my attention to growing the website. I quickly learnt that with the weather in Scotland you needed the website for when it was too cold, too wet or too windy to go out. The two shops have in turn complimented each other, one in the city centre and the other in a leafy suburb. Two very different customers but equally successful.

Why did you decide to open a new store during the pandemic in Glasgow?

Glasgow has always been part of my growth strategy. Glaswegian shoppers were coming into my Edinburgh shops pleading with me to open there. I first had a snoop around the city in 2018 and knew I wanted my next shop to be in the West End of Glasgow. All I had to do was wait until the right opportunity and that came in October 2019.
The shop on Hyndland Road was the perfect fit. Ticked all the right boxes, area, like minded independent businesses, footfall and community. Timing wasn't brilliant (LOL!!). I took on the lease on the 1st February 2020. So many concerned friends contacted me asking whether I should go ahead BUT why let a pandemic stop me?? If I could make the numbers work, budget accordingly and ultimately believe in my brand and myself and ability, why couldn't I make this work? Besides, it cannot get much worse?

Can you tell me a bit more about the new store?
The reaction to the opening has been incredible!! I have gained so many lovely new customers who want to support a new business. I believe Glaswegians love to champion those who dare. It is that entrepreneurial spirit in Glasgow that is so relatable.
I know that I will not be allowed to stand on my laurels in Glasgow. I know that I will have to work hard in this city to keep current and forward thinking. Expectations are high and I hope to always match them.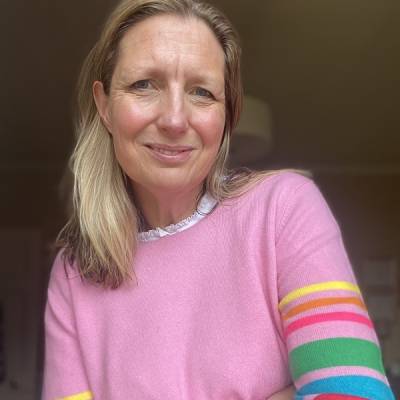 Are you able to share please what you love about Edinburgh and Glasgow – both beautiful cities but quite different?
I have very quickly learnt not to compare!! Two very different cities that I love for very different reasons.
The beauty and grace of Edinburgh astounds me constantly.
The grittiness and strength of Glasgow excites me.
I am not originally from Scotland but grew up in the home counties, close to London but could live in either city happily. Both cities have been incredibly welcoming.

How did the latest lockdown affect you? Have you had to make any changes to the way you run both Biscuit shops, such as going online or using more social media?
Like anyone who owns and runs an independent retail business, our lives have been dogged with sleepless nights and worry.
The saving grace has been the website. Already up and running when the first lockdown hit, we just turned all our attention to marketing the website as best we could. Run by two of us out of the shop in Bruntsfield, the shop has looked more like a warehouse than somewhere to linger and shop.
As a woman nudging 50, social media and instagram have not always been easy…it's a learning curve to say the least. I have always run Biscuits instagram. About 3 years ago at a wedding, someone next to me (I consequently found out was big in marketing) gave me advice. "Just be you. Don't be afraid to sell yourself, after all it is because of you that people come and shop at Biscuit" Since then my instagram is me. I made a conservative effort not to change tack during the pandemic, wanting to stay true to myself and not panic. I try and sell a lifestyle that people aspire to that is true and believable and hopefully achievable. I like to give as much as my customers and followers give to me.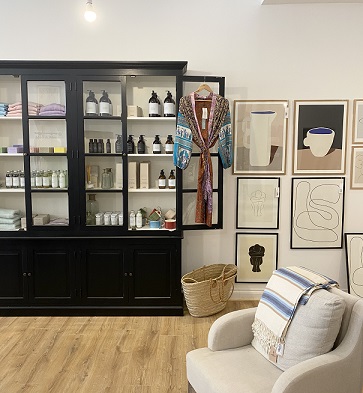 What are you most excited about the year ahead?
After these last months, you would think I would just want to lie down in a darkened room for a while and you wouldn't be too far wrong!! However, what I have taken from lockdown after lockdown is how people have adapted to online. I am excited at the prospect of the growth we have seen and where it can go.
I will never turn my back on bricks and mortar, it is in my blood literally (family) and I am always looking out for where I could take Biscuit next. But the website has turned my attention and I am looking to grow this. The world is my oyster so to speak.

Are you stocking any designers or collections you're particularly excited about this season?
I am stocking a few new brands this season and we have had a great reaction and sale through rates despite just being online which is very encouraging. This coming season I am collaborating with a brand where I can sell my own Biscuit colour ways which is immensely exciting.

Will you be joining us at Scoop x Pure this September?
Try and stop me!! I cannot wait to get out and about again. Living in Scotland has been very difficult to actually meet brands face to face and to be honest I am now very bored of Zoom. I love networking and finding new brands both for fashion and the home so getting some normality back will be amazing.

Do you have any words of positivity to share with our readers?
Believe in yourself, be ready to adapt and don't be scared.